Brochure Download

Download a PDF version of our Brochure.
(Right Click & Save Copy As)
Download..PDF Doc
| 5123 KB
Northridge Metal Fabricators
7 Greengage Rd.
New Lowell, Ontario
Tel: (705) 423-9887
Fax: (705) 423-9891
- About Us > Company Info
COMPANY INFORMATION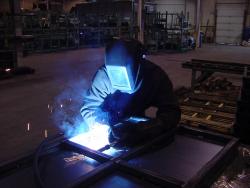 Northridge Metal Fabricators was founded in 2003 with one idea in mind; to assemble a team of highly motivated and highly skilled tradesmen to provde top notch service and quality products to the Automotive Industry across North America.
Located in New Lowell, Ontario, we are ideally situated to service Southern Ontario, and our proximity to the main arteries leading to Toronto and the United States border allow us to distribute our products across the continent.
High volume production is the main focus of Northridge Metal Fabricators. We pride ourselves on high output and fast turnaround allowing us to keep pace with the Automotive Industry.