Brochure Download

Download a PDF version of our Brochure.
(Right Click & Save Copy As)
Download..PDF Doc
| 5123 KB
Northridge Metal Fabricators
7 Greengage Rd.
New Lowell, Ontario
Tel: (705) 423-9887
Fax: (705) 423-9891
- Services > On-Site Solutions
ON-SITE SOLUTIONS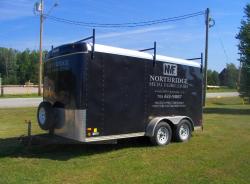 One of our most sought after services is on-site rack modification and repair. With companies investing so heavily in racking these days it is of prime importance to get long term returns on their investment. Many times this requires that packaging be repaired rather than scrapped or modifying a current model rack to accommodate next generation parts.
With our Mobile repair facilities we are able to set up on-site and complete any repair or modification quickly and accurately. We pride ourselves on our quick response to on-site projects. Whether it's dealing with an urgent safety concern or limiting the time your packaging is out of the system, timely service is a primary concern! Our on-site work crews are fully trained and certified for working in a wide variety of industrial situations.
We are fully equipped to operate in any location, whether that is outdoors, indoors or even line side. We strive to adapt our response to reduce any impact on our customers daily routine.